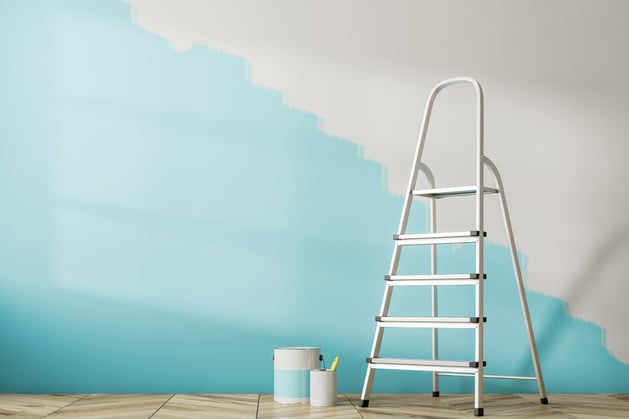 Have you ever seen a scratch or a hole in your wall and thought - maybe I could just touch this up? Many customers are looking to touch up their walls with either sample paint (which we don't sell) or quart-sized paint simply because it's an inexpensive solution. We do not recommend this.
If you're open to repainting an entire wall or room or if you're painting for the first time then our color matches will work great for your needs. However, what most people don't understand is that color falls on an infinitely continuous spectrum.
We are presented with discrete choices in the form of color chips, and generally speaking, these colors can be reproduced with no problem. However, every time a color is reproduced, it is created in a batch process. This includes the color chips, the paint, the colorants, and the colors. They are all subject to some variation.
So when you buy paint at a paint store, or at Home Depot, you are getting a snapshot of a version of that color that falls within a range of acceptable variability. Most of the time that variation is not noticeable, but if you were to take the color swatch and make it as big as a wall, and then put a tiny spot of paint from your gallon onto the giant color chip, we can guarantee you would see a difference. Your eye can detect very slight differences and this is the challenge with touching up paint.
But, there's more.
Colors are also affected over time as they age and are exposed to light. Did you ever move a picture frame that had been on a wall for a while? Chances are the color behind the picture frame is quite different from the rest of the wall because it had been shielded from the light. Colors are affected by other factors such as the specific paint product, application method, gloss level, film variance, surface substrate, and light source.
So if your paint has been on the walls for 10, 15, or 20 years and you are looking to just get a little jar of paint and have the scratches disappear? Chances are good there will be a (noticeable) difference.
You may be able to get away with it by feathering the paint over a large area, or painting one wall corner to corner - or it may just be time to repaint. However, the only way to guarantee an exact match of the color you have on your wall would be for you to send us a sample and we will match your actual color.
Learn more about our colors and our paints.